Transforming Lives, Scientifically
Scientists & Co. is a social initiative that strives to ensure cutting-edge scientific discoveries and advanced technology reaches all.
Sweta Raghavan
Founder & Managing Director
---
A passionate advocate of fair access to education, Sweta founded Scientists & Co. with the aim to increase the social mobility of underrepresented students into higher education, particularly in STEM subjects. Sweta has served as the President of Global Health Policy Centre at King's Think Tank and was elected for two consecutive terms as the PGR Student Officer at KCLSU. She also founded the King's Doctoral Students' Association, U.K's first autonomous representative body dedicated to research students. Recipient of the Honorary Life Membership at KCLSU and Risign Star Award from Inspiring Indian Women's Association, she was appointed as the Student Ambassador for King's Vision 2029 Strategy in recognition of her various contribution to King's.
Roksana Nikoopour
Director of Operations
---
Roksana completed her PhD at the Randall Centre for Cell and Molecular Biophysics, King's College London. Her research focused on cardiovascular disease, specifically investigating genetic heart conditions (cardiomyopathies). She has accumulated a significant amount of teaching experience, demonstrating in undergraduate laboratory sessions, tutoring undergraduate students and also whilst teaching in secondary schools in London and Spain. As the Director of Operations at Scientists & Co, she is responsible for managing the logistics and smooth running of their STEM educational programmes (particularly Shadow a Scientist). In her spare time, she enjoys playing both the violin and viola and hanging upside down from a trapeze 🙂
---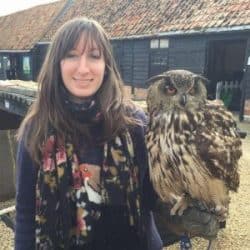 Lizzy Foxall
Associate Director (Monitoring & Evaluation)
---
Lizzy is Associate Director for evaluating and monitoring educational programmes at Scientists and Co. She strongly believes that a career in science should be accessible to students from all backgrounds. From the U.K., she completed her PhD at King's College London and currently a Visiting Scientist at The Francis Crick Institute. In her PhD, she investigated the mechanisms by which immune cells migrate throughout the body, to sites of infection or tissue damage. As well as scientific research, Lizzy's interests include travel, literature, films and the environment.
---